 Over 25 years of experience as a reputable commercial landscape contractor in Southern Alberta.
From experienced and committed project management personnel, to our use of top-quality materials, cutting edge equipment, and construction methods, we stand apart as a proven landscape contractor.
Our Mission is not just to meet our client's expectations, but to set the standard in the local commercial landscaping industry. We offer high-quality, competitively priced commercial landscape services using locally sourced, premium-grade products to exceed expectations. We strive to be partners with our clients, employees, our community, and our environment.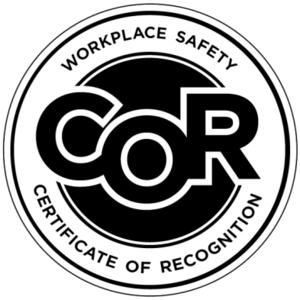 Bos Scapes proudly maintains COR workplace safety certification and is dedicated to protecting our workers, the public, and our surroundings.
Bos Scapes is looking for general landscape labourers and Class 1 drivers.
"We have been working with Bos Scapes for two decades and they always overperform. They are just one of the few contractors that you hire and you don't have to worry about. Nothing they do is last minute, any confusion about the specification is cleared up at tender time and when they show up on-site they have a plan and execute it with efficiency."
Dave N.
McNally Contractors Ltd.
"I am impressed with Bos Scapes ability to work under difficult situations. They won the tender on some landscape repairs due to erosion in an ecologically and historically sensitive area and completed the work in a timely manner at a very reasonable price especially given the nature of the area. They are easy to work with at every stage of the project, and have the professionalism and knowledge to explain their procedures."
Darcy Janzen
Project Manager
"You won't find a more professional group of people to work with. They have the insight and experience to assist with any type of sodding project. Our Victoria Sports Park had multiple sodding aspects, including three full-size sports fields, two large seating berms, and other smaller landscaped areas. Bos was able to keep us on budget while providing top quality sod and irrigation systems that will help keep the fields pristine for years to come."
Rich Bohne
Town of Raymond
"Bos Scapes has been instrumental in our successes in the Southern Alberta market for many years. They continually complete projects with the highest standards of safety, quality and efficiency."
Brett Glosli
Whissell Contracting Ltd.